Version: 1.0.0
Getting started with the Zeet CLI
The Zeet CLI allows you to interact with the Zeet API from the command line.
Operations​
The following operations are currently supported:
Installing​
To install the Zeet CLI on your local machine, see Installing the Zeet CLI.
Authenticating​
You can generate an API key for Zeet by going to https://zeet.co/account/api. You can also find this by going to Team Settings → API Keys. Once you are here, create a new API Key which you can use to authenticate with your CLI.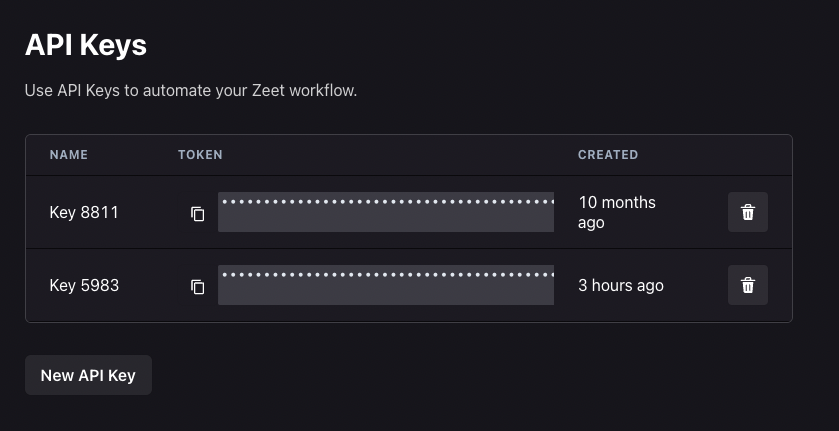 Then, run zeet login and paste in your PAI key.
Usage​
Project Paths
Commands are in the form of zeet [operation] [project-path], where project-path is the full path. It can be found in the URL bar after selecting a project, and is in the form of team-name/group-name/subgroup-name/project-name.
Example Project Path
$ zeet





Usage:




  zeet [command]





Available Commands:




  completion  Generate the autocompletion script for the specified shell




  deploy      Deploy a project




  help        Help about any command




  login       Login to Zeet




  logs        Logs the output for a given project




  restart     Restart a project




  status      Gets the status for a given project





Flags:




  -c, --config string   Config file (default "/your/config/dir/zeet/config.yaml")




  -v, --debug           Enable verbose debug logging




  -h, --help            help for zeet





Use "zeet [command] --help" for more information about a command.